The history of our company
Our company was founded in 1993 driven by the entrepreneurial spirit of its founders, loads of enthusiasm and the experience gained during several years in the press and autoclave curing.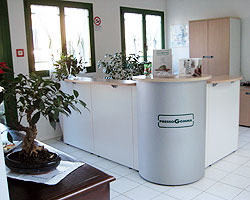 To date, the activity is expanded in different methods of vulcanization in order to further improve the quality of the product.
The company is certified for quality since 1997 and has gained in October 2003, the new UNI EN ISO 9001.
Our business philosophy aims at an organizational system that will always give the best solution to the equation
Quality - Price - Service
using a high flexibility of the production cycle, made ​​a strong vertical integration with our suppliers that allows us to make deliveries "Just in Time", true strength of our organization.
discover our products